Rifll Publishing, Inc. is dedicated to creating
inspired, fun, life-enriching books (for all ages).

Kid's Writing Challenge



---
The contest is NOW CLOSED (entry deadline was 12-31-2012)
---
2nd Place WINNERS ARE POSTED —► here.
1st Place WINNERS ARE PUBLISHED in this —► BOOK.
---



2012 CONTEST RULES ARE ARCHIVED BELOW.


↓ ↓ ↓ ↓ ↓ DETAILS BELOW ↓ ↓ ↓ ↓ ↓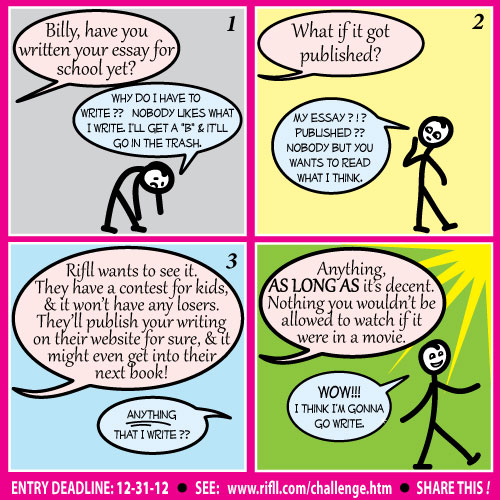 Every kid can come in 2nd place, but can YOU be one of

the SEVERAL 1st PLACE finalists which WE WILL PUBLISH in an anthology?


---
CLICK EACH QUESTION TO SEE THE ANSWER:
■ What do 2nd place winners receive?
■ What do 1st place winners receive?
■ Who can enter? «—UPDATED ON NOV. 30th
■ How much help can contestants get from parents or others?
■ What kind of writing does Rifll want to see entered?
■ Who will judge the entries?
■ When & how will the winners be announced?
■ How can I ask questions?
■ How do I submit a story or poem to the contest?
■ Where are the printable instructions for this contest?



Copyright 2010-2013 Rifll Publishing, Inc.