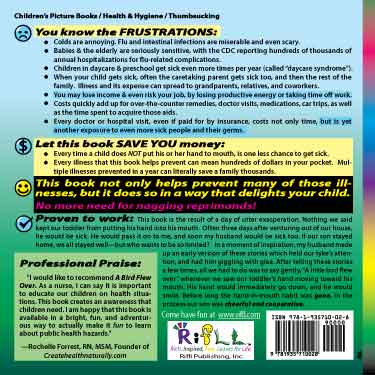 Professional Praise:

"I would like to recommend A Bird Flew Over. As a nurse, I can say it is important to educate our children on health situations. This book creates an awareness that children need. I am happy that this book is available in a bright, fun, and adventurous way to actually make it fun to learn about public health hazards."

---Rochelle Forrest, RN, MSM, Founder of Createhealthnaturally.com


Children's Picture Books / Health & Hygiene / Thumbsucking

You know the FRUSTRATIONS:

Colds are annoying. Flu and intestinal infections are miserable and even scary.

Babies & the elderly are seriously sensitive, with the CDC reporting hundreds of thousands of annual hospitalizations for flu-related complications.

Children in daycare & preschool get sick even more times per year (called "daycare syndrome").

When your child gets sick, often the caretaking parent gets sick too, and then the rest of the family. Illness and its expense can spread to grandparents, relatives, and coworkers.

You may lose income & even risk your job, by losing productive energy or taking time off work.

Costs quickly add up for over-the-counter remedies, doctor visits, medications, car trips, as well as the time spent to acquire those aids.

Every doctor or hospital visit, even if paid for by insurance, costs not only time, but is yet another exposure to even more sick people and their germs.


Let this book SAVE YOU money:
Every time a child does NOT put his or her hand to mouth, is one less chance to get sick.

Every illness that this book helps prevent can mean hundreds of dollars in your pocket. Multiple illnesses prevented in a year can literally save a family thousands.



This book not only helps prevent many of those illnesses, but it does so in a way that delights your child.

No more need for nagging reprimands!




Proven to work:
This book is the result of a day of utter exasperation. Nothing we said kept our toddler from putting his hand into his mouth. Often three days after venturing out of our house, he would be sick. He would pass it on to me, and soon my husband would be sick too. If our son stayed home, we all stayed well---but who wants to be so limited? In a moment of inspiration, my husband made up an early version of these stories which held our tyke's attention, and had him giggling with glee. After telling these stories a few times, all we had to do was to say gently, "A little bird flew over" whenever we saw our toddler's hand moving toward his mouth. His hand would immediately go down, and he would smile. Before long the hand-in-mouth habit was gone. In the process our son was cheerful and cooperative.